The Ashaiman Excellence Awards 21 (AEA21) held on Saturday 24th July,2021 at Rotary Club House Tema has successfully come to an end.
 Organizers for this event are Macford Productions and LoversGh Network two major brands celebrating, rewarding the hard work among individuals thus from the various industry in respect.
The Ashaiman Excellence awards (Aea21) Witnessed lot performance from King Jerry (Sankofa Hitmaker) , Smart 3DM dancers , Roberta Gabby , Atta Kofi and lot more cheering up this event in a grand style.
Also were invited guest of Honor's who were present to grace the occasion with support, Sherifa Gunu ,Jacob Aryee(UndergroundTv , Obaasima Serwaa AKoto(Angel Tv/Fm) , Nana Owoahene Acheampong (Atinka Media) ,Rebbeca Mensah (Valley View Fm) , Laud Kobby Jasper ,Nana Kay (HomeBase Tv) ,Shotto Blinqx Koorah, George Wilson(Ghananews) and few others.
Out of 51 Nominees on board Baamuji Ceo emerged Artist of the year @ AEA21 (ASHAIMAN EXCELLENCE AWARD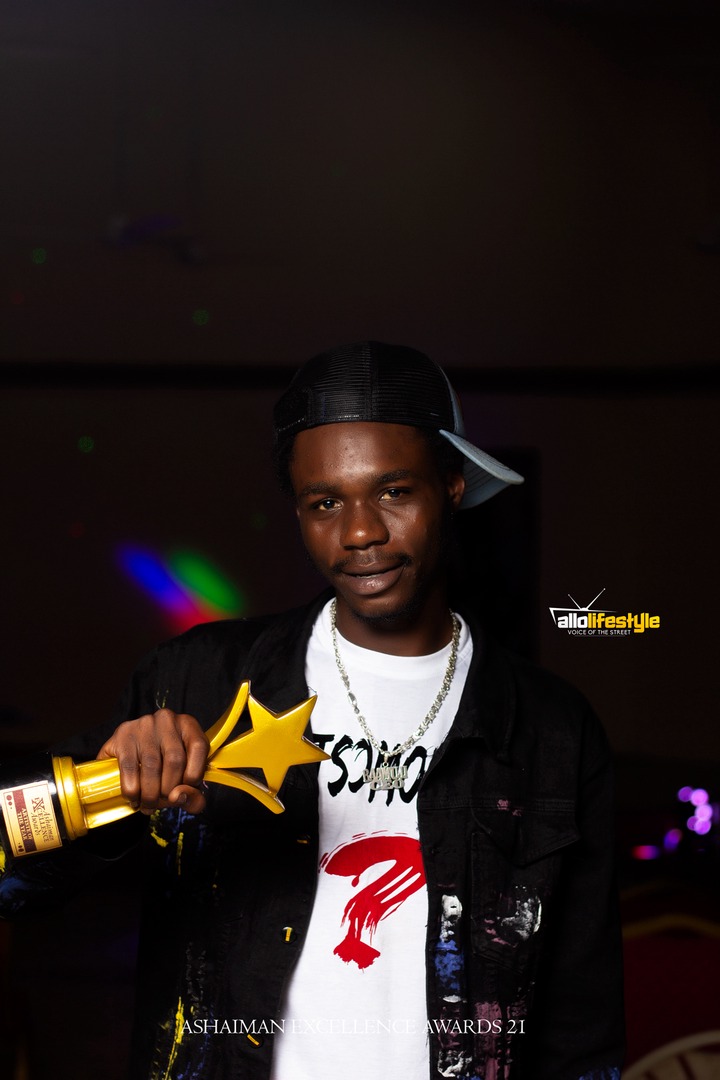 Baamuji ceo beat off all the 51+ Nominees to win the ultimate title.
Other big winners of the night include, Don Elijah, King Jerry, Picson , Wanzet , Dtrust , Success B , Kwame Vybz ,Radel , Eric Twum , Nexus Beatz , Gina , Shika Azansu , Atta Kofi ,Gucci Dinx and many others.
Macford Productions and LoversGh Network would like to thank the general public and individuals for the supports and contributions given towards the success for this maiden edition.
Below are the list of winners.
CATEGORY: ACTOR OF THE YEAR
LOCAL MORAL
CATEGORY: AFROPOP SONG
DON ELIJAH
CATEGORY: ARTISTE OF THE YEAR
BAMUJI CEO
CATEGORY: BEST ACTRESS
GINA
CATEGORY: BEST AFROBEAT ARTIST
PICKSON FIADZIGBEY
CATEGORY: BEST AFROPOP ARTISTE
DON ELIJAH
CATEGORY: BEST COLLABORATION
X2CEDIS
CATEGORY: BEST COMEDIAN
COOKER ANOMAA THAN
CATEGORY: BEST CREATIVE MUSIC VIDEO
VANNIE BERRIE
CATEGORY: BEST DANCE GROUP
SMART 3DM DANCERS
CATEGORY: BEST DJ
DJ FOXZY
CATEGORY: BEST EVENT HOUSE
ALLO LIFESTYLE
CATEGORY: BEST FEMALE ENTREPRENEUR
RADEL
CATEGORY: BEST FEMALE MODEL
ABIGAIL THESSA
CATEGORY: BEST FILM
Uber Driver Tv Series
CATEGORY: BEST FILM DIRECTOR
LAUD KOBBY JASPER
CATEGORY: BEST FILM PRODUCER
FELICIA ADENYO
CATEGORY: BEST GOSPEL MUSIC
BUERKIE VICTORIA
CATEGORY: BEST HAIR STYLIST
FRESHLOVE VICENTIA
CATEGORY: BEST HIPOP ARTSITE
MAXZIZI MORLE MORLE
CATEGORY: BEST MALE ENTREPRENEUR
DON ELIJAH
CATEGORY: BEST MALE VOCALIST
JAY IYKE
CATEGORY: BEST MUSIC DIRECTOR
JAKE DE SNAKE
CATEGORY: BEST MUSIC VIDEO
GUSSY DINKX
CATEGORY: BEST RAGGAE
SUMMER SPARTAN
CATEGORY: BEST RAGGAE / DANCEHALL
QKWAME CJ
CATEGORY: BEST RAPPER
SUCCESS B
CATEGORY: BEST TRADITIONAL SONG
ATAA KOFI
CATEGORY: BEST VERSATILE ARTISTE
SUCCESS B
CATEGORY: BEST VIDEO
PHLASHLYT
CATEGORY: BEST WRITER /AUTHOR
BUBAZEE
CATEGORY: BLOGGER OF THE YEAR
BENONYX.COM
CATEGORY: BRAND INFLUENCER
KWESI TUCHI GENERAL
CATEGORY: CONTENT CREATOR
ALPHA DIGITAL
CATEGORY: DANCEHALL ARTISTE
KLARA KAH
CATEGORY: DISCOVERY ARTIST
PRINCE BEE
CATEGORY: DISCOVERY MODEL
LADY PASCAL
CATEGORY: EMERGING ARTIST
PRESH PHASE
CATEGORY: EXCELLENCE IN ENTREPRENEURSHIP
ROSEBURD
CATEGORY: EXCELLENCE IN MEDIA ONLINE
ASTU WOSEGA
CATEGORY: EXCELLENCE IN MEDIA RADIO
REBECCA MENSAH – VALLEY VIEW FM
CATEGORY: EXCELLENCE IN MEDIA TV
OBAASIMA SERWAA AKOTO
CATEGORY: FASHION MODEL
RADEL
CATEGORY: FEMALE VOCALIST
LADY GIFTY NYAMASHI
CATEGORY: GOSPEL ARTISTE
SHIKA AZASU
CATEGORY: HIGLIFE ARTISTE
kraka
CATEGORY: HIGHLIFE SONG
D.TRUST
CATEGORY: HIPOP SONG
KWAME VYBZ – CONTROL ft LARRUSO
CATEGORY: HIPLIFE SONG
OHEMAA GH
CATEGORY: MOST POPULAR SONG
KING JERRRY – SANKOFA
CATEGORY: PRODUCER OF THE YEAR
NEXUS BEAT
CATEGORY: PRODUCTION HOUSE
SULTAN IDDRISU
CATEGORY: RADIO HOST
ORIGINAL SNP
CATEGORY: SONG WRITER
ERIC TWUM
CATEGORY: TV HOST
OBASIMAA SERWAA AKOTO
CATEGORY: UNSUNG ARTISTE
WANZET
CATEGORY: VIDEO VIXEN
JOANA MERCER