If you've ever uttered the words "Lionel Messi wouldn't cut it in the Premier League" – you may need to rethink your opinion.
"He shows in every game why he is Messi. His average performance is this type of game," said Spurs boss Maurico Pochettino after his fellow Argentine inspired Barcelona to a 4-2victory over Tottenham in their Champions League group game at Wembley on Wednesday.
Two goals, exquisite passing and not a pair of gloves in sight.
Messi may always draw comparisons with his great rival Cristiano Ronaldo – who has strutted his stuff in England, Spain and is now over in Serie A with Juventus – but he has shown time and again he has is the man for the big occasion, especially when facing English clubs.
The 31-year-old has scored 22 goals and delivered six assists in 28 games against England's finest – more than he has against clubs from any other country.
Still think that not playing in the Premier League precludes him from the GOAT tag? Think again.
What are his numbers against English teams?
Lionel Messi versus English clubs
Club
Appearances
Goals
Assists
Arsenal
6
9
1
Chelsea
10
3
3
Liverpool
2
0
0
Man City
6
6
2
Man Utd
4
2
0
Tottenham
1
2
0
Messi's magic against English clubs in Champions League
Barcelona 2-0 Man Utd, 2008-09 final
Before Ronaldo made his move from Manchester United to Real Madrid, duels between him and Messi were limited to the Champions League.
Here, in a Rome final billed as a contest between the two and as United tried to retain their crown, Barcelona were inspired by Messi, who capped his performance with a stunning headed goal.
Barcelona 4-1 Arsenal (6-3 agg) 2009-10 quarter-finals
Arsenal actually led this tie 3-2 thanks to a Nicklas Bendtner goal in the Nou Camp, only for the Gunners to be dumped out by Messi's individual brilliance.
The Argentine scored all four of Barca's goals. The third, a sublime chip, had fans bowing in reverence, while the fourth, a surging run, confirmed his reputation as an unstoppable force.
Barcelona 3-1 Man Utd, 2010-11 final
Two years on, against the same opponents but this time at Wembley, Messi again inspired Barca to yet another Champions League success.
The Argentine danced around the famous stadium and, when United found hope at 1-1, it was Messi who snuffed it out with a powerful drive.
Barcelona 4-0 Man City, 2016-17 group stage
As Pep Guardiola returned to his old club for the first time as Manchester City manager, Messi was just returning from a groin injury. It did not stop him.
Messi had already waltzed through the City defence by the time the visitors were reduced to 10 men. His second was a curling left-footed finish and the hat-trick was completed with a predator's tap-in.
'Messi was glorious' – what they said:
We're only two games down but Lionel Messi is already looking good in the Champions League golden boot race. No prizes for guessing who won it last time around. A Portuguese forward who was playing for Real Madrid at the time.
But with five goals in two games, Messi is already two strikes clear of Neymar and in good shape to beat last season's tally of six in 10 games.
In case you're wondering, that equates to a goal every 36 minutes. No wonder players and pundits are purring over his feats:
Stoke City midfielder Darren Fletcher on BBC Radio 5 live: "Playing deeper will prolong Lionel Messi's career – he'll still score an incredible amount of goals. He's almost playing as Messi and Andres Iniesta all in one, it's quite something.
"What a performance from that man Messi, he could have had a hat-trick. It's an absolute master-class from him, we used to talk about Paul Scholes performing like this but Messi was on another level tonight."
Tottenham full-back Kieran Trippier: "These are the games you want to be involved in, that you dream of playing in. He was unbelievable. When he's in that form he's magic to watch. Barcelona were the better team on the night but we'll take plenty of positives out of it. We've got another game around the corner, so we'll recover and see where we went wrong."
Former Chelsea midfielder Andy Townsend on BBC Radio 5 live: "The best players make the game look easy; it's a privilege to watch Lionel Messi play like this. It's almost like he plays in slippers, he's that light on his feet. The Spurs fans have seen their team give everything to try and claw their way back from a two-goal deficit.
"Everybody when they are walking away will all be saying 'wow' – if they haven't seen Lionel Messi before in the flesh, the craft, the cunning, the sheer technical quality that he has.
"His football brain is twice the size of anyone else's out there. You've seen his speed, work-rate, willingness to take the ball in all sorts of areas and then you've seen his sheer cutting edge, which makes him what he is. It was a real honour and privilege to see Lionel Messi tonight.
"He had absolutely everything in his game tonight. It was fabulous. The night belonged to Barcelona but in particular Messi – he was glorious."
Former Spurs and England midfielder Jermaine Jenas on BT Sport: "In the stadium it feels like everyone is in awe of what he's doing on the pitch. That's the best I've seen him play in England – it was a special performance."
The social media reaction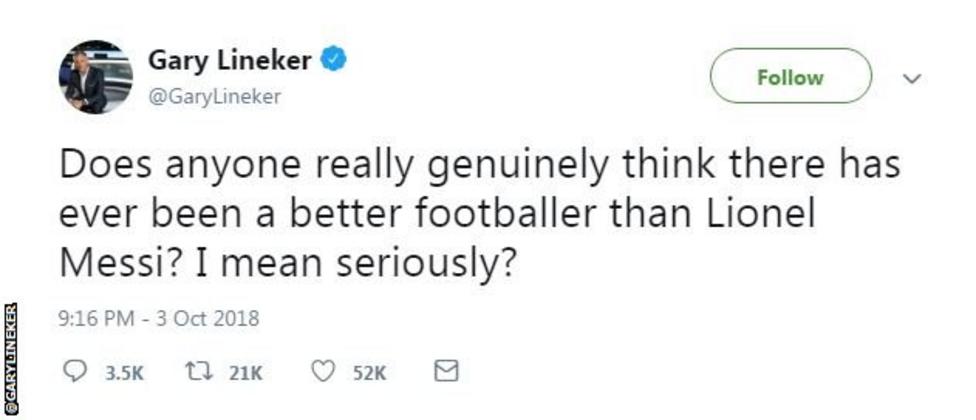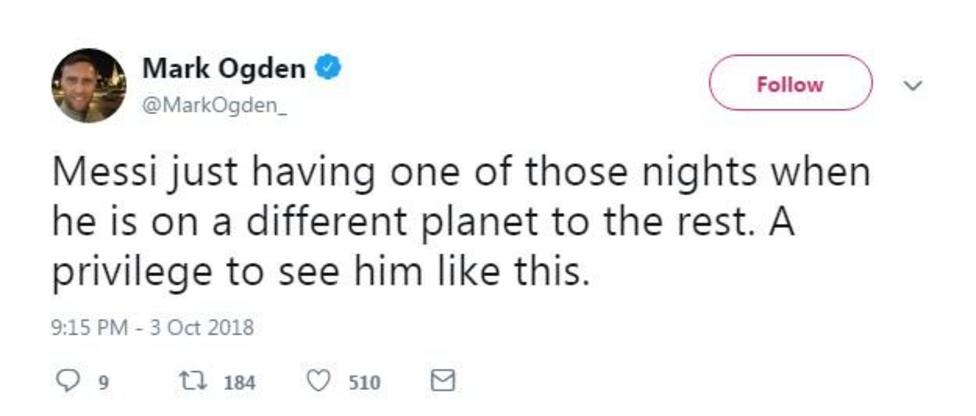 Messilizer: Messi is always on another level against English sides. Its almost like he's sat at home on his iPad reading all those headlines of him not being able to do it in the Premier League.
Cruijffista14: Lionel Messi against English teams in the Champions League: 22 goals, 6 assists. More than teams from any other country. But please go ahead and tell me he wouldn't be able to do it in the Premier League.
Josip: Messi is not only the best player in the world, he's like three tiers above everyone. It goes: Messi, then a huge gap and then the rest of human beings.
Ben: People actually think Messi wouldn't tear up the premier league LOOOLLLLLLL Next joke please.