Sometimes, football just doesn't make sense.
And The Best Fifa Awards have done a grand job of proving that.
It's hard to know where to start, but we'll have a go at dissecting exactly what went on in the strangest football awards, hosted by Idris Elba wearing a waistcoat emblazoned with Gareth Southgate's face.
What was even going on with the voting? Can anyone honestly make sense of it? We're going to try…
Is the Fifpro best XI REALLY the best 11 players?
Let's start with Liverpool's Mohamed Salah. He scored 32 Premier League goals last season and was named Fifa's third best male footballer, behind winner Luka Modric and Cristiano Ronaldo.
So why was he not included in the World XI?
Then there's the inclusion of Manchester United's Spanish stopper David de Gea as the team's goalkeeper, even though he missed out to Thibaut Courtois for the individual keeper award.
And how has Paris St-Germain's injured right-back Dani Alves made it in again? The Brazilian has been selected in eight of the past nine teams, only missing out in 2014.
Any more decent right-backs out there? Hello? Anyone?
Of course, there are arguments for and against the inclusion of every member of the World XI team, but what The Best awards seemingly don't rely on is consistency.
Fifa has explained how the voting for the player and coach categories took place – national team captains, national team managers, selected journalists and, for the first time, an online poll of fans, with each accounting for 25% of the total.
But Fifa hasn't explained why Salah and Courtois only make the 2nd XI.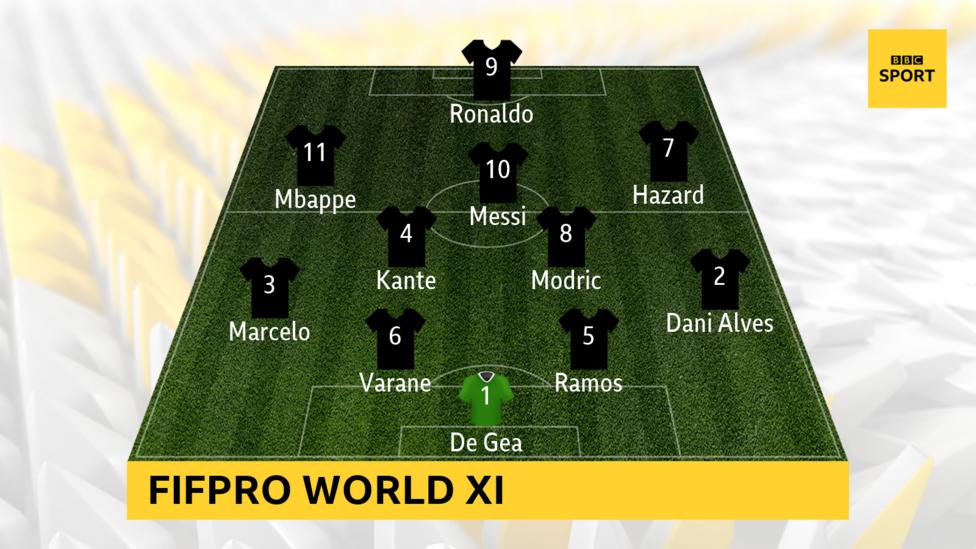 Fifpro – world football's players' union – released four 'reserve' teams in total, made up of the 44 players who didn't receive enough votes to make the first team.
The results are certainly interesting.
Arguably, the 2nd XI's front three of Neymar, Mohamed Salah and World Cup Golden Boot-winner Harry Kane would fit nicely into the World XI.
Kane did only receive 0.98% of the vote, though.
Did 2nd XI midfielder Paul Pogba, who was pivotal in France's triumph in the World Cup, deserve to make the cut ahead of Messi, who had a quiet tournament and exited at the last-16 stage?
And how about Kevin de Bruyne? The Manchester City man enjoyed a stellar season for the Blues on their road to the Premier League title but did not make the 1st XI.
He and fellow 2nd XI selection Kyle Walker were the only players from Manchester City's dominant side to make the first three teams in the FIFPro vote.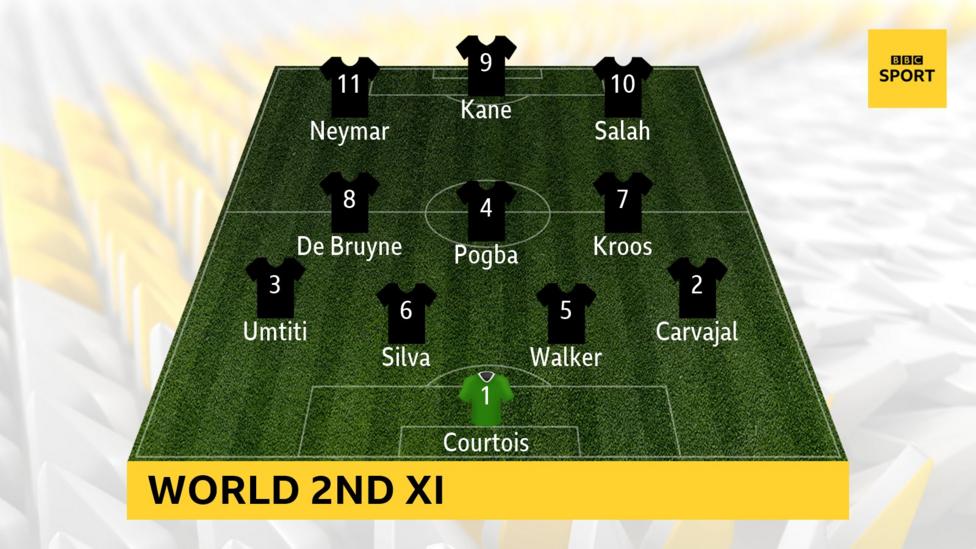 The 3rd XI is also a pretty solid looking side, with several strong World Cup performers in there, including Belgium's Manchester United forward Romelu Lukaku and Croatia midfielder Ivan Rakitic.
They'd certainly have an argument to at least make the bench for the Best XI team.
Tell us what you think at #bbcfootball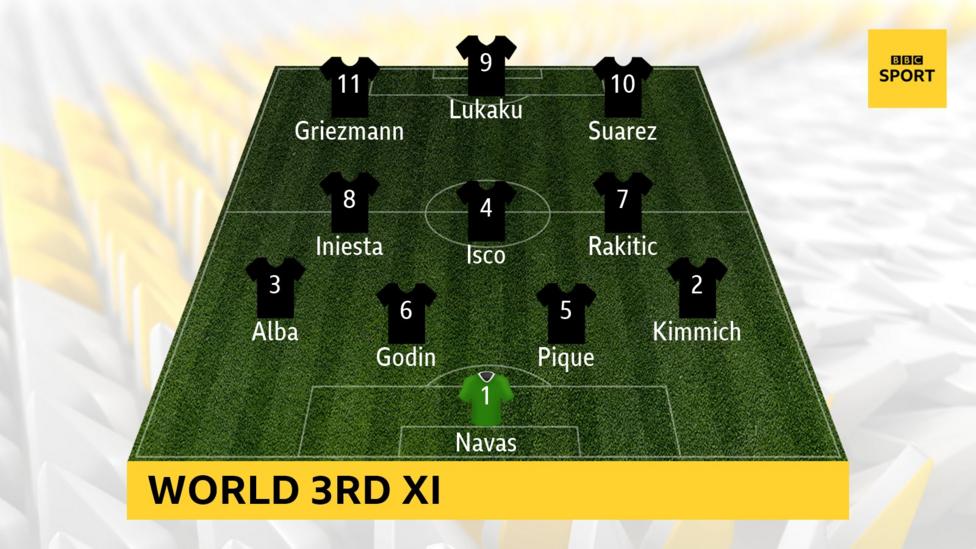 And was Salah's goal the best?
One of the biggest head-scratching moments from the ceremony was, no, not Ronaldinho's suspect choice in headwear or Eden Hazard's shiny red suit, but Mo Salah's goal in the Liverpool derby back in December winning the Puskas Best Goal Award.
Maybe even more amazingly, it got a whopping 38% of the public vote.
Sure, it's a decent enough effort from the Egyptian, but was it better than Gareth Bale's spectacular overhead kick in the Champions League final against Liverpool?
It didn't even win the Premier League Goal of the Month for December 2017, Jermain Defoe's did – that lovely volley from a tight angle, when he was playing for Bournemouth against Crystal Palace.
Fans voted Salah's shot the top goal out of a shortlist of 10, which also included Benjamin Pavard's sublime finish for France at the World Cup, Portuguese Ricardo Quaresma's outside-of-the-foot curler against Iran and Cristiano Ronaldo's aerial effort for Real Madrid against his new club Juventus in the Champions League.
Salah's Liverpool team-mate James Milner summed up the situation pretty perfectly in a single tweet.
The evergreen midfielder posted: "Congrats Mo Salah on your seventh best goal from last season winning goal of the year."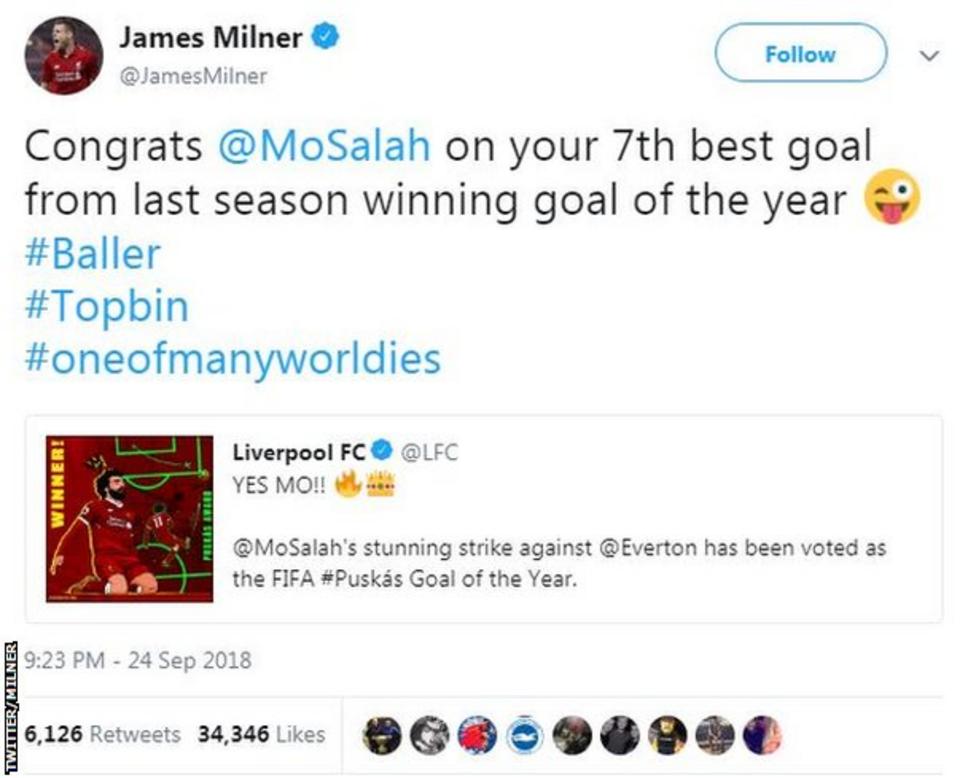 Touche, James, touche.
So, see you same time next year?